Clean, Simple Design.
Crown Mortgage Company approached the CueCamp team to create a more aesthetically pleasing website. Looking for marketing in Illinois, with specific focus on the Chicagoland area, Crown hoped to convey their messaging in a way that captivated their target audience. CueCamp created a new website with an upbeat look and feel that clarified the unique value proposition of the mortgage lender.
Clear Calls-to-Action.
From the intuitive forms to the call-to-action buttons, Crown Mortgage Company has seen a significant increase in client engagement. In turn, revenue has grown significantly from their marketing partnership with CueCamp: a digital agency specializing in marketing in Illinois.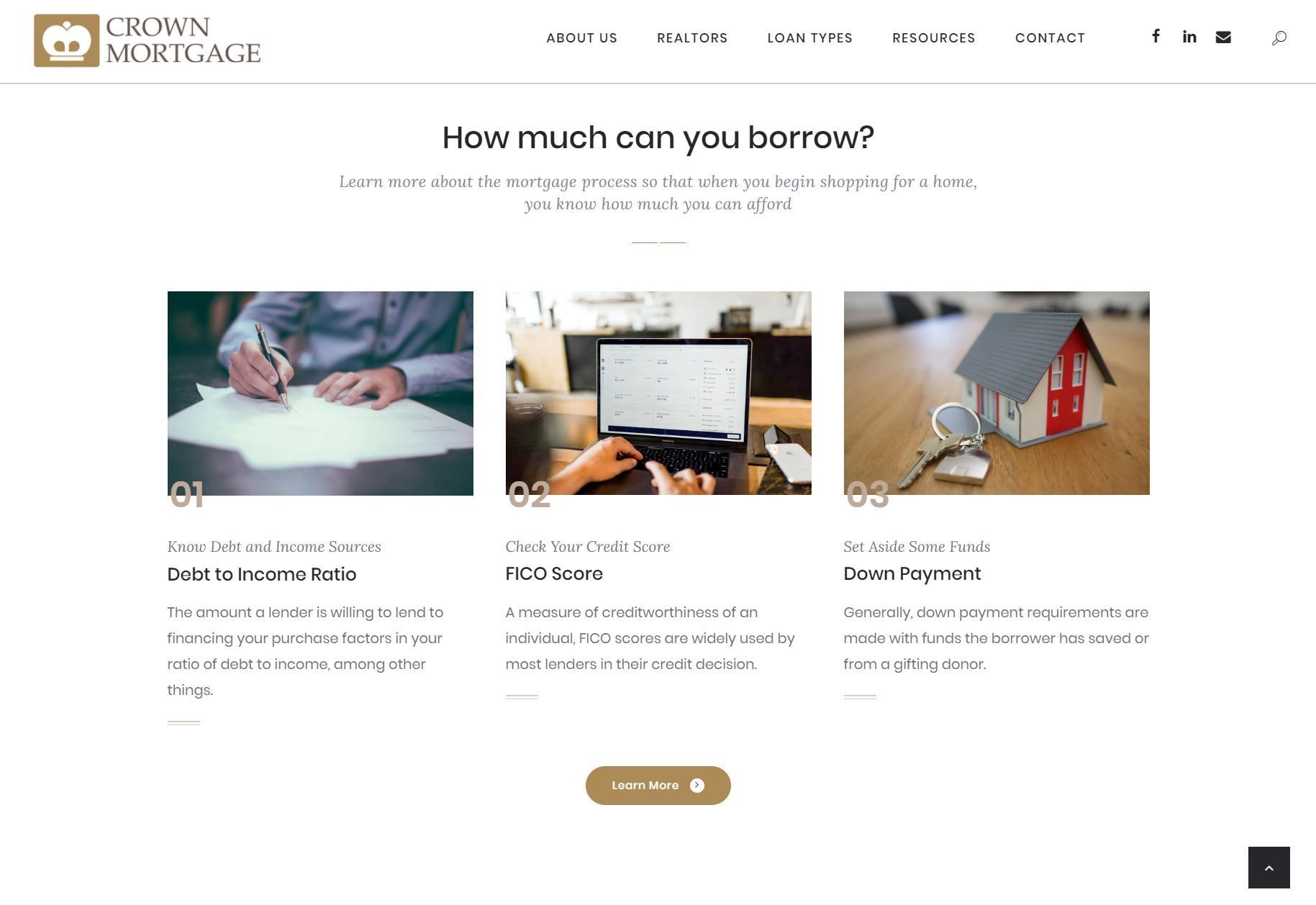 Lead Generation for Multiple Persona Types.
Custom forms were designed for multiple personas (types of users) to help those users request information or begin a mortgage application. Specifically, CueCamp identified buyer types such as veterans (VA loans), new home buyers, and those looking to refinance. Following, targeted messaging helped raise relevancy, which led to higher conversion rates.
Clean, Mobile-First, Responsive Design.

The redesigned website for Crown Mortgage Company features a new navigation structure, making content easier than ever to locate. Likewise, content is optimized so that it is simple, to the point, and easily consumed across every type of device (mobile and desktop).
Strategic Marketing & Branding

Content Management System (CMS)

Responsive Design (Looks great on desktop, tablet and mobile devices)
Simplified Website Navigation (Information Architecture)
---
Customized lead capture for every persona.

To help users request information or begin a mortgage application, CueCamp organized content using a simple website navigation scheme to make each user journey efficient. Therefore, by creating marketing in Illinois that is intuitive for the user, Chicago-area buyers can easily meet their goals on the website. In other words, the information they need is easy to find and results in high conversion rates.
Reorganization of Website Content

User-Experience (UX) Design with User-Centered Focus

Simplified Website Navigation (Information Architecture)
Capture website leads by better appealing to their interests.
---
Social Media Marketing & Email Automation.
CueCamp designed new messaging for Google Ads, generated posts for Crown's Facebook and LinkedIn pages, and generated a new email marketing strategy. As a result, Crown Mortgage has seen a significant increase in engagement across all marketing channels; including their website, social media platforms, and email campaigns.
---
Ready to boost your customer engagement and create explosive business growth?
CueCamp loves business, and would love to learn about yours. Let's talk strategy and figure out how to craft a unique brand message that'll generate explosive business growth.
Reach out to the CueCamp team
Design a Custom Marketing Strategy
Build Processes & the Customer Experience