Clean, Simple Design.
United Flexible approached CueCamp looking for a website redesign, choosing our expertise in usability as a key differentiator. In addition, the new website needed authority, conveying international marketing expertise. Having just acquired several companies, those companies needed to have their separate websites integrated into the website redesign for United Flexible. In turn, this was a challenge from an information architecture (IA) standpoint.

As a large multinational corporation, user-experience (UX) and usability were front and center in the website redesign. The new website organized large amounts of complex information, from formerly separate companies, in a way that made everything easy to locate.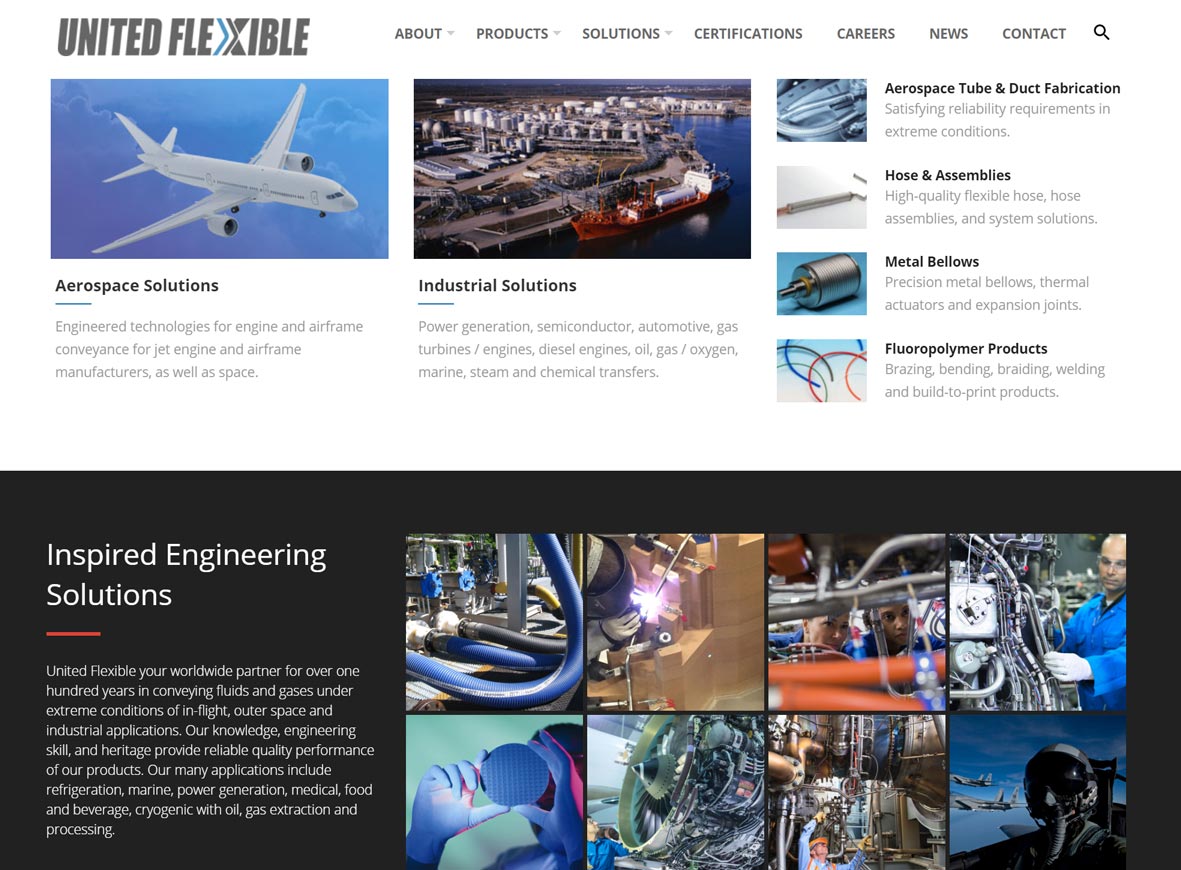 Clear Calls-to-Action.
CueCamp, along with their sister company Situated Research, brought a user-centered design focus to the new United Flexible website. In turn, the website's page layouts, navigation structure, and product pages help users find what they need in an efficient manner.

Information was reorganized in a manner that prioritized the needs of key stakeholders, following international marketing standards. Following the redesign, very technical products are easily found on the website. In addition, interactive graphics helped to simplify complex product information.
International Marketing & 3-D Interactive Models.
Complex interactive graphics of airplanes and jet engines serve to highlight United Flexible's aerospace product focus. Additionally, these graphics are interactive: allowing users to mouse-over an airplane, select parts of interest, and click through to product pages to learn more about the product specifications.
Clean, Custom-Designed Graphics.

The redesigned website for United Flexible features three-dimensional interactive parts for the aerospace industry, where quality information is of critical importance. With improved graphics, clients from across the globe can evaluate products and make more informed buying decisions.
Strategic International Marketing & Branding

Content Management System (CMS)

Three-Dimensional (3D) Custom Graphics
Custom-Graphics: Models of Parts (Airplane Thermostat)
---
Customized lead capture for every type of persona.

To help users request information, apply for a job, or learn about complex aerospace parts, CueCamp organized content and created a custom website navigation scheme that is intuitive for the user. This results in information that's easy to find, as well as higher conversion rates.
Reorganization of Website Content

User-Experience (UX) Design with
User-Centered Focus

Simplified Website Navigation
(Information Architecture)
Boost sales by capturing website leads through easy-to-use forms.
---
Social Media Integration & Search Engine Optimization.

To boost search ranks, United Flexible's website incorporated highly-relevant keywords into the page content. Image alt-tags, headings, page titles, and page descriptions were rewritten to boost search engine rankings and attract new customers. As a result, United Flexible saw a significant increase in engagement not only through the website. In addition, international marketing engagement increased on social media platforms too.
---
Ready to boost your customer engagement and create explosive business growth?
CueCamp loves business, and would love to learn about yours. Let's talk strategy and figure out how to craft a unique brand message that'll generate explosive business growth.
Reach out to the CueCamp team
Design a Custom Marketing Strategy
Build Processes & the Customer Experience