When your clients look for you on Google, on what page do you rank? Does your business rank highly for the keywords that matter for your business, and your industry? Research shows that businesses that rank below the first page of results on Google only receive 0.78% of the clicks. In fact, the first five organic search results account for over 67% of all clicks. In this article, we'll present ways to use keyword research and analyze competitors on Google, informing your content marketing strategy.
Marketers must use discretion and choose to create the most relevant content for their brand and business. This requires research into the popularity of keywords to determine which are too competitive, and which present opportunities. Often, ranking higher for niche keywords that are more pertinent to your business can yield impressive results.
How does this affect your content marketing strategy? Content marketing is concerned with creating fresh, attractive, and useful content for your target audience. This content draws potential clients to your website or social media channels to engage with your brand. This in turn drives brand awareness, engages you with your target market, and drives revenue.
Content Marketing Stats to Know
As previously mentioned, content marketing drives business results, and supports the attraction of new customers. According to HubSpot, 47% of buyers will look at three to five pieces of content before reaching out to a sales representative. In addition, 82% of marketers report actively using content marketing this year, compared to 70% last year. Content can take the form of blog articles, social media marketing, videos, webinars, and emails. Higher quality content, along with pertinent information for your audience, will result in higher quality leads. With that in mind, how can you find content that matters to your audience?
Content Marketing Tools to Find Topics that Matter
Following are three of the best tools to find topics for content marketing, which all make use of Google search. Research on your competitors will help identify what your industry peers are doing. Google's Keyword Planner can show the popularity of keywords and view their bid range, which helps determine competitiveness. Finally, industry influencers (those of prominence in your industry) can be great sources of trending topics. You can research trends on Google search, and social media platforms (like Facebook, Instagram, or Twitter).
1. Competitor Research
Researching your competitors can show you what your industry peers are doing with their marketing efforts. This presents opportunities to see industry trends, and spot gaps in content that your business might use to its advantage.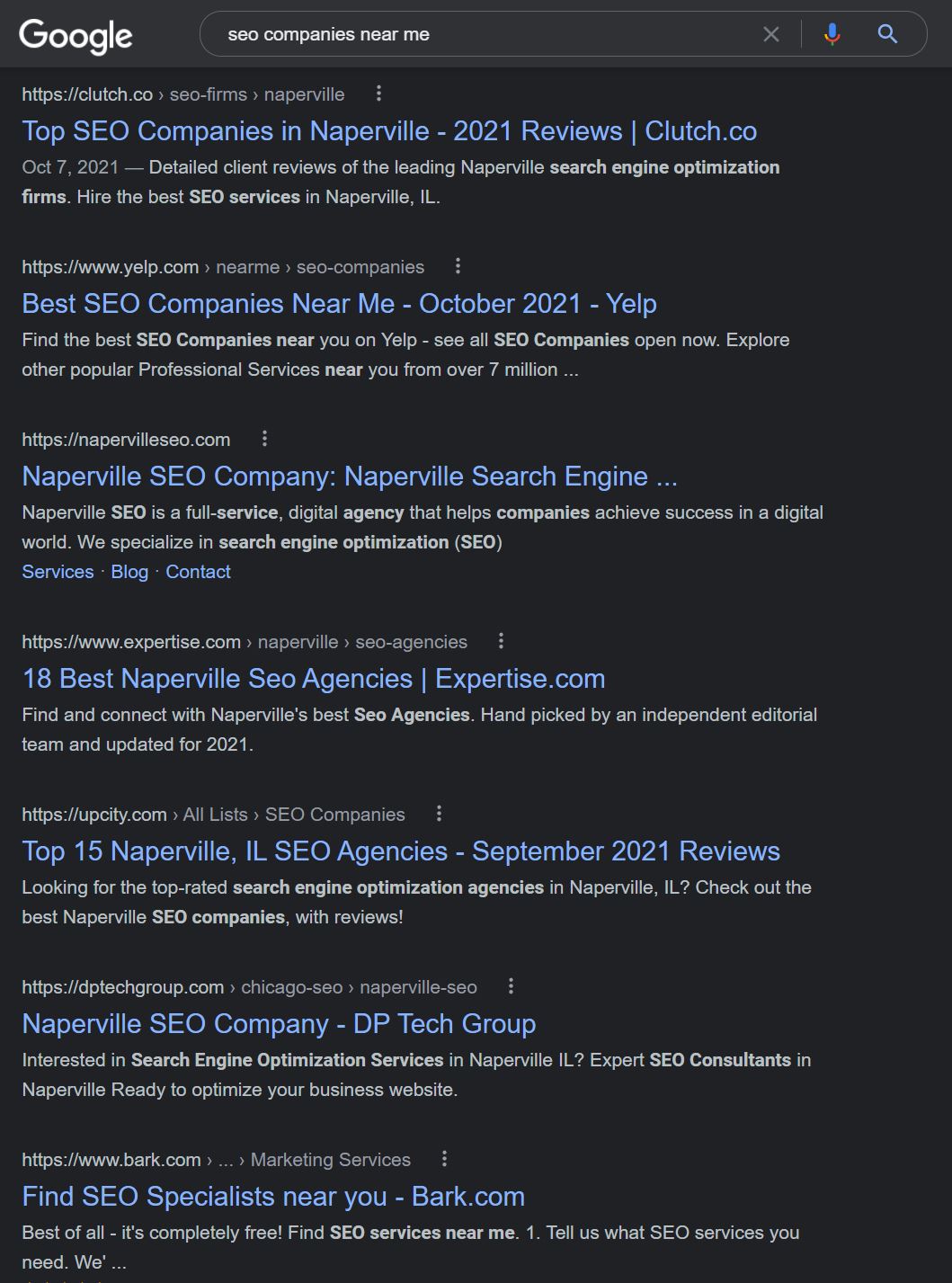 As shown in the above example, searching Google for local businesses (e.g., "seo companies near me") results in a list of local businesses to inform your business. Use of the "near me" in the search query will yield local results on Google. Typically, ads will appear first (not in the screenshot), followed by organic search results (in the above screenshot). Clicking through the list will help you discover both companies and indexes related to your search. In the above example, many of the results are landing pages that rank SEO companies, rather than actual SEO companies. These indexing websites (such as Yelp) create an opportunity for businesses to build citations that link back to their business. This can increase exposure by being added to the list, as well as raise ranks by creating additional backlinks to your website (a factor in Google search rank).
As shown above, Google attempts to interpret a search by offering related questions to the search query. In the above "people also ask" section, a user can click the questions for quick answers. These answers are in the form of a snippet of an article that Google ranks highly on the topic. They also present an additional strategy to rank on Google for content marketers.
2. Google Keyword Planner
As shown below, Google offers a powerful content marketing tool to help content strategists find interesting topics for their industry. In the example below, simply starting with a search for 'pizza oven' and 'bbq' yields many related keywords. Some of these results can then inform a content marketing strategy.
Google's Keyword Planner, a tool from Google Ads, shows search data for keywords of interest. Content marketers can research a keyword's search popularity (average monthly searches, and change over time), current competition, and bid range. This information can be especially useful to examine to inform a content marketing strategy. This data can help explain what your competitors are doing, and the difficulty to rank for those keywords. Keywords with high competition are often more difficult to rank high, while less-competitive keywords may present an opportunity. Less-competitive keywords, of high relevancy to your business, may present an opportunity to rank highly.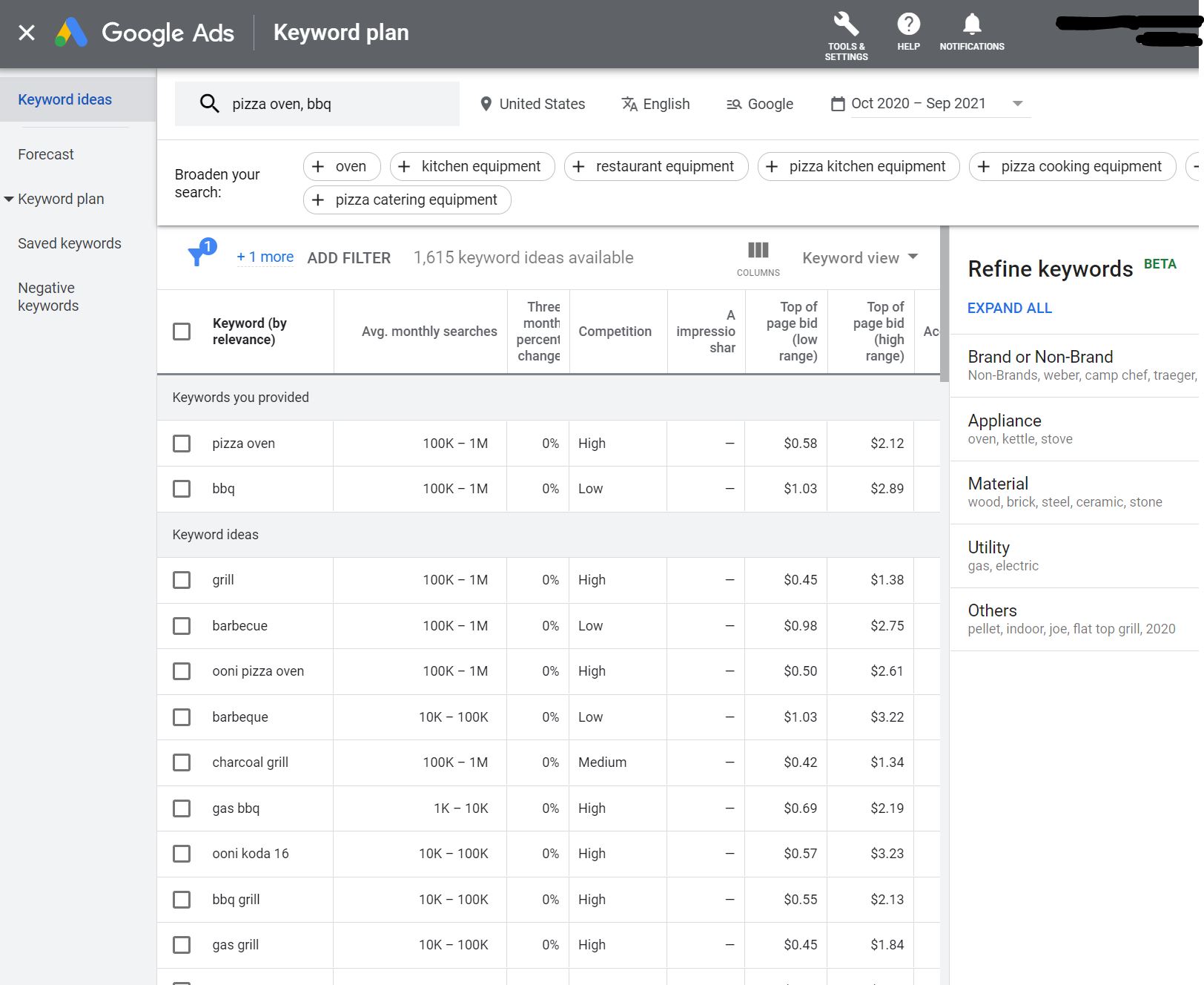 Long-tail keywords, or those that are usually longer phrases than commonly used keywords, can be powerful components of your content marketing strategy. These types of keywords are more specific, and typically have a lower volume, but can be of higher relevancy. This results in higher conversion rates, as they are more specific and relevant to your potential clients.
3. Industry Trends and Influencers
Popular marketers, individuals, and brands can start trends in your industry. It is important to keep informed of industry news and events to stay current and build your content marketing strategy. Social media outlets such as Facebook, Instagram, and Twitter are great places to follow industry leaders and topics (such as Instagram hashtags). Searching a trending topic, news, or upcoming event are great ways to generate ideas for your marketing strategy. If a topic is relevant to your industry, it's important to partake so you present yourself as an industry leader. Industry trends can be formal or informal, such as a meme on social media. Participate early, as to not appear 'late to the party' or out of touch with your industry.
Google Search Rank
According to BrightEdge, 68% of online experiences begin with a search engine. Sparktoro reports that 92.96% of global traffic coming from Google Search, Google Images, and Google Maps.
Ranking Content
Ranking your content as high as possible is very important for your business. In fact, the first five organic search results account for over 67% of all clicks. Likewise, only 0.78% of Google searchers click on results from the 2nd page, according to Backlinko. The generation of content that ranks high is of critical importance for all businesses. However, some keywords and content are very difficult to rank highly, as the space is very competitive.
For instance, searching Google for 'restaurants' is very competitive, as there are many restaurants. This makes it difficult to rank very high for this term, although paid ads may help (discussed below). Attempting to rank for generic search queries may not be in the best interest of the business.
Google My Business / Local Businesses
Detailed search queries are typically more useful to a user than searching for something generic like 'restaurants' in Google. In fact, 69.7% of search queries contain four words or more, according to Ahrefs. In the following example, a user looking for 'pizza delivery Naperville' receives results highly relevant to their search location.
Searching for something like 'pizza delivery Naperville' instead of 'restaurants' produces a list of local pizza delivery restaurants. In this case, a user was probably looking for a pizza place that delivers near their location (Naperville, Illinois). This produces more relevant results for the users. Based upon the search query, Google will look for local businesses ranked by popularity and quality.
Many factors are factored into Google search results for local businesses. Google My Business is a way for businesses to manage their local profile on Google, with details like hours, location, and service area. Businesses with higher numbers of good reviews rank higher in local search, as shown in the above example. Google will rank based on location, reviews (quantity and quality), as well as other review websites (Yelp, etc.).
According to Think With Google, 30% of all mobile searches are related to location. Likewise, 76% of people who search on their smartphones for something nearby visit a business within a day. Of searches done for something nearby, 28% result in a purchase. Both Search engine optimization (SEO), and local SEO (as described above), are of critical importance for businesses to attract customers.
Search Engine Optimization (SEO)
Search engine optimization, or SEO, drives 1000%+ more traffic than organic social media according to BrightEdge. Many factors relate to the overall rank of your content. To optimize your content, many factors should be considered. For instance, a blog article should aim for quality content that mentions keywords throughout the article content, including headings and image alt-tags.
As Google algorithms change, so do suggestions for ranking high on Google. Over the years, ranking strategies have changed due to relevancy, and Google continually improves ranking algorithms to read content like a human. As an example, some marketers have used black-hat SEO techniques, which attempt to cheat the system to rank. Websites used to list every nearby city in their page footers, attempting to rank high in all those locations. As Google learned from these tactics, the algorithm changed to penalize black-hat techniques. Priority was given to rank content or businesses actually in a particular service area, with a good user experience (UX).
Other techniques, such as overloading content with keywords, sacrificed readability and usability in an attempt to out-rank competitors. Google algorithms have changed to prioritize content that is more useful to actual users: with current algorithms supporting content of higher relevancy and quality. Accordingly, websites with a better user-experience (speed, security / HTTPS) and more backlinks (others linking to the content) are prioritized in search rankings.
Pay-Per-Click / Google Ads
Using Google Ads, marketers can place ads for their products or services based on a set of keywords or phrases. These ads will appear above Google search results when appropriate, and rank based upon several quality factors and a CPC (cost-per-click) bid. For example, when searching for a 'pizza oven' (a product), ads will appear above the organic search results to help businesses sell the product.
Google Ads will rank (against other ads) based upon a variety of factors, including:
cost-per-click bid (price paid to rank for a keyword or phrase)
expected click-through rate (how often users are anticipated to click the ad)
ad relevance (how closely the ad matches the search query), including previous search queries (as shown above)
landing page experience (how well the destination page promotes quality content, security, loads quickly, and provides a good experience for users)
With ads showing above organic search results, they can serve as a shortcut to get content or products at the top of search results. Often, considerable time is needed to get content to rank higher. If organic search ranks are low, Google ads can help get content to page one of the search results.
Summary
This article introduces some of the basic principles of content marketing, and why it matters for your business. Your content marketing strategy determines how your business ranks on Google, and how well it can attract new customers.
A great content marketing strategy begins with some research. Investigating what your competitors are doing, especially successful competitors, can help your business generate ideas for growth. Finding areas that your competitors missed allows your business to carve out a niche to attract new customers as well.
Google provides many tools to help you in these efforts, including their keyword research tool (Google Keyword Planner). Performing a search on Google to look at page rank is useful as well. Google Ads can show the competitiveness of keywords and the cost of running ad campaigns for those keywords. According to Internet Live Stats, around 3.5 billion searches are performed daily on Google, and ranking high for relevant content will drive business growth.
Your content marketing strategy should be at the core of your overall business strategy. In short, your content strategy will determine how well your overall marketing efforts work. Do you have any content marketing stories or examples you can share? We would love to hear from you in the comments below. As always, please reach out to CueCamp if you'd like to chat about Google search or your content marketing strategy.
Written by: Matthew Sharritt, Ph.D. (Founder, CueCamp)